In Memory
Catherine E. Fruhan
Deceased November 20, 2015, Greencastle, Indiana.
Catherine E. Fruhan, professor of art and art history at DePauw University since 1984, died suddenly today while on campus. She was 67 years old. (at right: Professor Fruhan in 2004)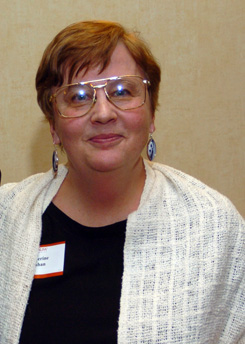 Born November 6, 1948, in Lakewood, Ohio, Fruhan earned her B.A. in the History of Art from the Connecticut College for Women and went on to study in Italy at the University of Florence. She then received a master's degree and Ph.D. from the University of Michigan.
Professor Fruhan came to DePauw in 1984 after teaching at the College of Wooster. Her courses included Italian Renaissance, European Baroque, and Late-Nineteenth-Century French Art, as well as a class on Documentary Film and several on the History of Western Art. She chaired her department from 1994-97 and 2004-05.
In her research, Dr. Fruhan's interests centered on Rome as a mythic as well as a physical space and other aspects of that city in the 16th and 17th centuries -- including women patrons, the collecting habits of aristocratic families, papal sculpture commissions, and pilgrimage in the Jubilee Year 1600.
In 2004, she was presented with the Mr. and Mrs. Fred C. Tucker Jr. Distinguished Career Award. In 2010-11, Fruhan was a recipient of the Exemplary Teacher Award, which is given jointly by DePauw and the General Board of Higher Education of the United Methodist Church to recognize faculty members who exemplify excellence in teaching, civility and concern for students and colleagues, commitment to value-centered education, and service to students, the institution and the community. (at left: a 1984 photo of Dr. Fruhan)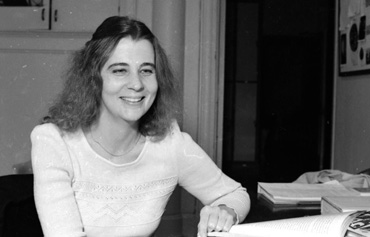 In an email to the campus community this afternoon, DePauw President Brian W. Casey noted, "Catherine was beloved by students and respected among the faculty and staff for her dedication to the best principles of a liberal arts education. Her work touched several generations of graduates and has made DePauw a better place."
He added, "I join everyone in the DePauw community in mourning Catherine and in sending our deepest sympathies and warmest thoughts to her family and many friends."
DePauw's Office of Student Life is offering support for students, faculty and staff who desire it during this difficult time.
A remembrance gathering will take place on Saturday, December 12, at DePauw's Prindle Institute for Ethics from 1:30 to 3:30 p.m. with a program beginning at two o'clock.
Published on www.depauw.edu November 20, 2015.