In Memory
Diane Thompson Doerge (Wilson)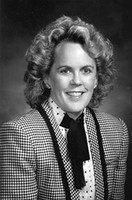 Deceased July 11, 2003, Boston, Massachusetts.
Diane Wilson, of Boston and Osterville, MA at age 55, passed away on July 11, 2003 at the Beth Israel Medical Center, Boston, after a long and courageous battle with breast cancer. Most recently, Diane Wilson was a senior partner at Accenture, specializing in organization change and information technology strategy, topics on which she published numerous papers in business and academic journals. Earlier, she worked as an independent consultant with major global corporations and served seven years on the research staff of MIT's Sloan School of Management. She was also a visiting professor at the Hochschule St. Gallen, Switzerland. She received a B.A. from Connecticut College, an M.A. from Denver University, and a Doctorate in Education from Harvard University. She was born in Lakewood and raised in Rocky River, Ohio. She is survived by her mother, Martha Seelbach of Hilton Head, SC, her husband, Alvin Silk of Osterville, MA; three step-children, Andrea Atkinson of Montclair, NJ, Lieut. Jonathan Silk of Fort Polk, LA, and Stephanie Silk of Sacramento CA; four grandchildren, Jonathan, Jr. Silk, Kiah Atkinson, Maysen Atkinson and Tankey Silk; and four brothers, Dan Doerge, Hilton Head, SC, David Doerge, Chicago, IL, Doug Doerge, Cleveland, OH, and Jack Doerge, Chicago, IL. To honor her memory, contributions may be made to: Breast Cancer Research, Division of Oncology, Beth Israel Medical Center, 330 Brookline Ave., Boston, MA 02215; Attention: Dr. Roger Lange. Funeral arrangements are private. George L. Doherty Funeral Home Somerville 617-625-4320 - See more at: http://www.legacy.com/obituaries/bostonglobe/obituary.aspx?n=Diane-Wilson&pid=1162840#sthash.Y5WY5LYO.dpuf
A new endowed chair has been established at HBS to honor the late Diane Doerge Wilson, an organizational sociologist and longtime researcher, author, and consultant on the impact of information technology on companies around the globe. The chair was established by her husband, Alvin J. Silk, the Lincoln Filene Professor of Business Administration, Emeritus, to support an HBS faculty member whose interests include the intersection of gender with work, career, and family issues, a passion of Wilson's throughout her academic and professional career. HBS professor Robin Eby, senior associate dean for Culture and Community, is the chair's first incumbent. "Robin is an accomplished and influential expert who examines gender and race issues in the workplace," Silk said. "The focus of her teaching and research, along with her important administrative role at HBS, aligns perfectly with Diane's abiding interest in work, career, and family." Published in the Harvard Business School Bulletin, June 1, 2013.